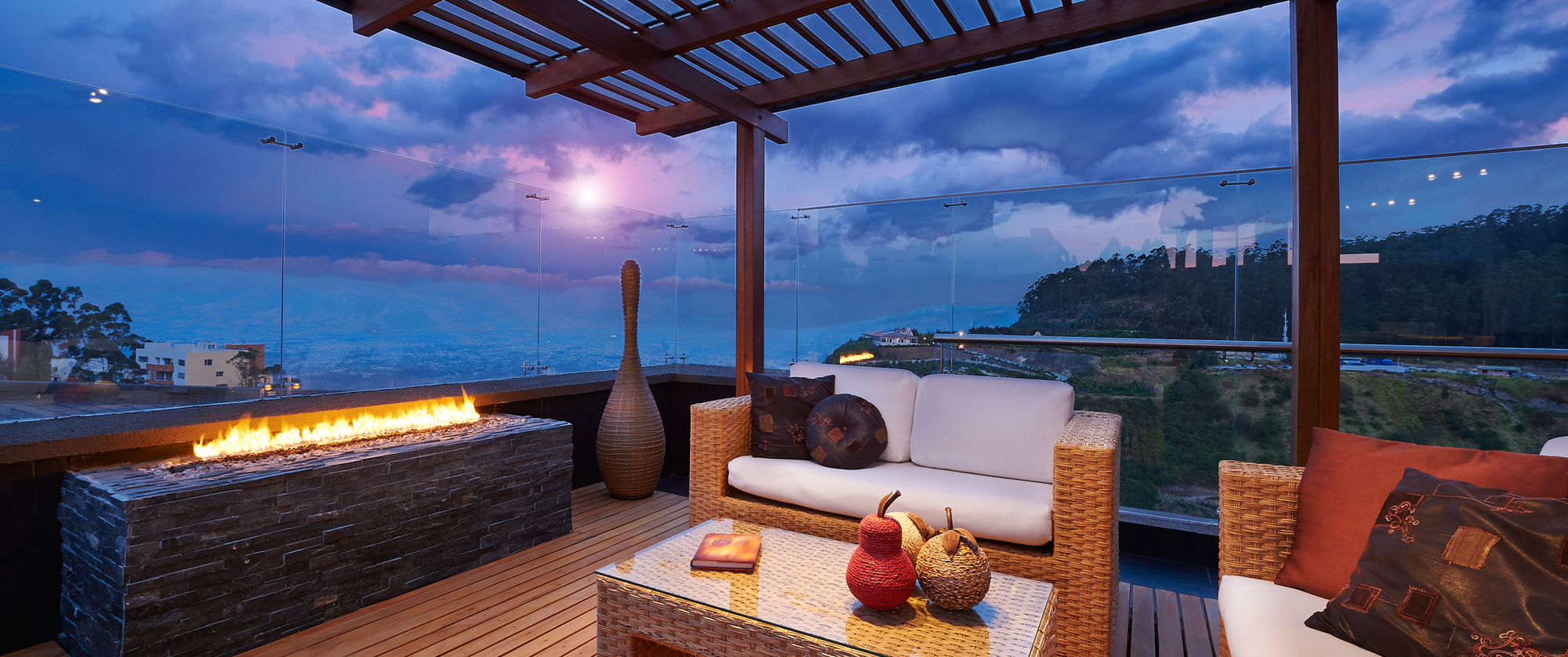 Decks and patios give you the opportunity to enjoy the outdoors within the comfort of your home. Patios and decks are natural gathering spots for family and friends. Patios and decks are both worthy opponents. How do you decide, patio or deck? What is the difference? Before you create an outdoor chill spot, consider all the factors. Learn about the difference between the two and weigh the pros against the cons of each.
Deck vs. Patio: What is the Difference?
A deck is an open porch or outdoor platform that extends from your house. Unlike the porch, a deck doesn't enjoy your house's roofing. Wood and vinyl are common construction materials for decks. Without regular maintenance, the wood may rot or degrade from the weather. Decks rise from the ground and terrain is not a factor that affects construction. The floor of the deck can extend from your house's lower level (living room or kitchen floor), or they may extend from higher floors or rooftop.
A patio, on the other hand, is a paved outdoor area that independently stands on the ground. A one may be connected or detached from the house. Patios usually have concrete floors, but you can improvise with tiles, stone, pavers, bricks or other flooring materials. Patios may feature fire pits, built-in barbeque grills, potted plants, outdoor furniture, Curtain rails or whatever is fit for your taste.
Deck vs Patio: Pros and Cons
1. Deck
| Pros | Cons |
| --- | --- |
| Up to 87% resale value. | Decks are harder to maintain. The wood requires regular treatment. |
| Constructible over uneven terrain. | Lower lifespans. Weather degradable. |
| Decks provide excellent views of the surroundings. | Construction of decks requires permits from local authorities. |
| Easy to customize. | Decks feature higher construction costs. |
| Decks provide excellent views of the surroundings. | Weight restrictions. |
2. Patio
| Pros | Cons |
| --- | --- |
| Low construction costs. | Only Suited for even grounds. |
| Easy maintenance. | Risk of cracks, if poorly constructed. |
| More privacy. | Construction of patios is labor intensive. |
| Long lifespans. |   |
| Construction of patios does not require permits from local authorities. |   |
The Orange County Summer is cruel. With temperatures rising to 85ºF, who wants to sit in the house? Patios and decks offer an opportunity to enjoy the ocean breeze while you sip a cold drink. They also provide excellent entertainment areas. You can host your friends and family without the interruption kids.
Creating a charming patio or deck does not have to become a bank-breaking venture. Sure, investing tens of thousands of dollars may yield outstanding results, but a little sweat, work, and a few hundred dollars can also create an excellent outdoor chill spot. Here are a few ideas that can yield surprising results.
Affordable Deck and Patio Ideas
Pallet Decks

Pallets are easily available. You can find them around delivery docks. Should you need to buy some, you can always purchase them online. Once you secure your wooden pallets, arrange them in any form you please on a level platform. Pallets create a rugged and artistic feel. You can paint your new deck with your favorite color. Alternatively, you can smoothen the edges and preserve the integrity of the wood with some vanish. You can accessorize your pallet deck with chairs, tables and plant containers made from pallets. The pallet deck is best for level terrain.

The Floating Deck

This type of deck appears a suspended wooden platform. It is one of those decks that result from the economic use of wooden frames. To make one of these decks, you need some gravel, concrete deck footings, some planks of wood, water sealant, measuring equipment, some nails, and a hammer.

Lay the foundation of your deck with some gravel and deck footings. The reason why we apply some gravel under the footings is to avoid slip. Waterproof your deck planks to prevent rot. Lay your wooden joist across the footings then nail down your planks. Stain and seal your new deck. You can accessorize this deck with furniture and plants.

Revamp an Already Existing Deck

You can give your deck a facelift with a new paint job and accessories. If you do not like the dull color on your deck's floor, you can use a stencil to imprint new designs. Maybe you can paint some flowers on your deck or an elaborate pattern. You can also add new furniture, potted plants, ceramic ornaments, and mats. Canopies and throw pillows are also creative ways to breathing new life into an old deck.

Add a Daybed

Transform your deck into a nap time paradise. A few throw pillows, a couch or a daybed, is all your deck needs to transform into a nap lounge. You can also throw in a canopy to shield you from southern California's blazing sun. A daybed increases your options. You can stretch your legs and take a nap or read a book in a reclining position. A chair doesn't provide these options.

Accessorize Your Deck with Gravel

Gravel gives the impression of space. You can create pathways with gravel or patch the areas around the deck with gravel. To make things interesting, I suggest adding color to the gravel with dyes and paints. Blue gravel around a floating deck resembles a floating raft. You can also pull off a multi-colored gravel extravaganza with a mix of colors. This idea is also applicable patios and pathways.

Checkered Patio

Patios do not have to be boring and monotonous. You can use CMU pavers of different colors to pull off a chessboard design. You can also add some rails and curtains to provide privacy. A few potted plants in and around the patio add color and privacy. Ceramic ornaments and furniture are always a good idea.

Salvaged Materials

Using salvaged materials is an experimental approach to creating a desirable patio. Hunt for recovered items from newspaper classifieds, home improvement salvage bins, and online listings. This approach is budget friendly and elegant. It is the perfect test of your artistic vision. Take advantage of slate and granite slabs as flooring materials. Let your imagination and run wild; you can create a mosaic design for the floor. Accessorize your new patio with flowering plants, furniture, and ornaments.

Add a Fire Pit

There is no better way to spend a late evening than sitting around a fire. You, your family and your friends can gather around the fire and catch up on old times. There are numerous designs of fire pits that can suit your deck or patio. Most deck floors are wooden, therefore, selecting an appropriate fire pit is a tricky affair. Wood burning fire pits are not safe for wooden decks because wood burns and explodes in sparks of flying embers that can destroy or ignite your wooden floor. I suggest a gas-fueled fire pit for your deck

Wood burning fire pits can improve your patio. Wood fueled fire pits are warmer than gas fire pits. Spend your autumn and winter nights around the warmth of a fire. Before you purchase or install a fire pit, check with the local government for legality and permits

Free Form

Break free from tradition and create your fantasy patio. With materials like paving stones and concrete pavers, you can create multiple designs; from spiral paving stone partner to tiered patio floors. You can also add some pomp and color by staining and painting your paving stones and concrete pavers. Alternatively, you can use leftover bricks from a construction project. Bricks have excellent flooring properties. Using blocks of different colors creates a whimsical cottage appearance. Brick cubes are easier to work with compared to concrete pavers because they can take any shape and form.

You can also plant crawling vines around the patio. When they are mature enough, guide the plants to crawl onto frames and rails. These plants can offer natural shade and privacy.

Transform Your Patio into a Cabana

I know, cabanas are more permanent and complex structures. With some wooden pillars, PVC pipes, curtains, and some drapes, you can transform any patio into a cabana. Use the wooden posts or PVC pipes as support for the structure. Install the drapes on the roof to filter the sun. You can add some curtains to the sides for more privacy.

Barefoot Patio

On a flat surface covered with buffalo grass or any other luscious lawn, lay down paving stones in a spaced out fashion to allow the grass to thrive between the spaced out rocks. This idea is also compatible when implemented with bricks and concrete paving blocks.
Decks vs. Patios: Which Costs More?
Your budget determines the result of any renovation or construction project that you take on. The same concept applies to decks and patios. According to Remodelling Magazine's 2013 Cost Value Report, the average construction cost of a mid-range deck is $15,000 while the average cost of a wooden deck is $9,327. A new patio will cost a homeowner 30% less. According to an article from HouseLogic, the average cost of a deck is $33 per square foot, while the average cost of a patio is $15 per square foot. All these articles and statements support one fact; patios are cheaper than decks.
What determines the cost of the project? Construction costs depend on;
Construction materials. For example concrete, wood, vinyl, paving stones, etc.

Location and terrain of the structure.

Size of the structure.

Features and accessories of the structure. For example fire pits, ceramics, in-built barbeque grills, etc.
The slope of the yard also plays a significant factor in determining the cost of the project. An uneven slope requires some flattening (in the case of patios) or special footings (in the case of decks).
Return of Investment (ROI)
What happens when you sell your property? Any renovation carried out around your yard often offers a satisfactory return on investment. For a new deck, the average Return of Investment runs, according to HouseLogic around 75% above construction cost while the ROI on a new patio averages between 30-60%. Adding a patio or deck to your yard increases your property's value.
If your yard sits on a hill or if the land around your house is uneven, I would recommend getting a deck. Decks are raised therefore you do not need a level base. Even if your home stands on the edge of a cliff, you can still get a deck that stretches over the cliff. Decks offer better landscape views because they rise from the ground. Patios, on the other hand, provide more privacy and they are weatherproof.